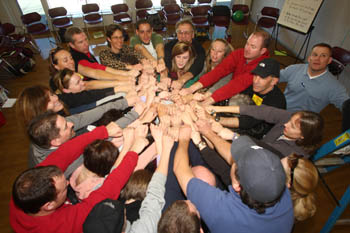 FREQUENTLY ASKED QUESTIONS
Q: Who attends NCCPS?
Participants include: teachers, students, adventure program facilitators, challenge course managers, consultants and corporate trainers/facilitators, camp professionals, mental health professionals, youth-at-risk counselors, university program professionals, and YOU!
Q: I'm used to going to conferences where everything is laid out for me and all I need to do is show up. How do I know NCCPS can deliver the goods?
NCCPS is powered by Open Space!
Open Space blends the solid structure and predictability of traditional conferences with spontaneity and passion. Our conference has structure, time schedules and a number of presentations that are planned in advance by participants as well as sessions that will be introduced in the moment.
The combination of pre-planned presentations and those sessions born in the moment make Open Space unique. During the opening of the Full Conference, Tom will begin by inviting participants who have come prepared with a presentation to give a brief description of their presentation(s). (Last year, 30+ alumni offered their presentations right at the start!) Then you'll participate with amazement as Tom asks the rest of the participants what they need that has not already been offered. Alumni and new participants will work together to create enough sessions for (3) three days – right before your eyes!
Open Space responds to the expressed needs of the participants quickly, effectively, powerfully and continuously.
Q: Help! I need to convince my boss to send me!
We all know training dollars are limited. But when you tell your boss that this is the one conference where you will learn how to create workshops to meet the needs of your company, the value of this investment will be clear. At NCCPS, your training dollars will be well spent and richly rewarded with information you can use NOW — making you an even more valuable practitioner! Even if it comes down to paying your own fare, you can't miss this opportunity to enhance your skills.
Q: What is a typical day?
The daily schedule for NCCPS looks pretty much like any other conference but with one important difference. At the start of each morning, we meet to plan the day and at the end of each afternoon, we meet to close and connect.
Q: Can I attend Pre or Post Conference Workshops even if I don't attend the Full Conference?
Yes! Anyone can attend the Pre or Post Conference.
Q: What should I bring?
notebook / laptop
cell phone
musical instrument
lunch and snack food
business cards (100+)
program brochures
sunglasses
water bottle
camera
all weather clothing – February temperatures in Boulder range 0 to 60 degrees!