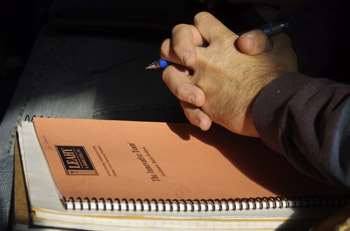 PRE CONFERENCE WORKSHOP
Presented By: Tom Leahy
February 26-28, 2018
8:00am - 6:00pm
Boulder, Colorado
The Innovative Team
©
Creating Effective Teams Using Experiential Training
Team Building and Team Development are two industry catch phrases that can mean anything from playing games to crisis intervention to a high element challenge course experience. Both have become so meaningless that potential clients either place the experience in the category of whitewater rafting, paintball or they tell you... "we've tried that, it was fun, but there was no lasting effect." Yet, they STILL ask for team building with some vague notion of what their teams need to move forward. The Innovative Team© makes team building a science; teaching teams skills they will use for years to come!
The Innovative Team© is a 30-hour team development workshop for both untrained and experienced facilitators based on actual material that Tom Leahy uses with his adult and corporate clients. It is a broad-based training of challenge initiatives and facilitation skills focused on creating an effective team out of a gaggle of individuals, regardless of their age or experience. This workshop focuses on models, tools and skills that create teams that communicate clearly, solve problems together and make decisions quickly with total buy-in. Bold claims you say? The Innovative Team© functions in a realm, rarely if ever seen, in traditional, experiential challenge workshops.
The Innovative Team© is a journey to discover the key elements of teams, where they most commonly make mistakes and how to help them rise to extraordinary performance. The material in this workshop is unique and evolved over twenty years of experience in team development. Participants move through a series of initiatives and challenges designed to diagnose and expose their team's process weaknesses. As the team struggles, it is offered assistance and helped to recognize new skills and tools. Careful attention is given to development of a common and shared understanding of team process. The Innovative Team© teaches facilitators how to get teams on the same page to create their own success.
Participants in this workshop can expect to be challenged far beyond their own experience, expectations and beliefs. Even familiar initiatives take on a whole new light as participants discover that there are no trick solutions or obligatory group votes to feel successful. Participants will quickly discover that they may have been inhibiting their own clients far short of their potential.
The Innovative Team© teaches how to approach team building facilitation with confidence and helps facilitators develop the skills to really push a team while protecting it from harm. This workshop will forever change your view of teambuilding and problem solving.
Innovative Team
©

Content
Creating a Safe Place for Growth:
develop boundaries and permission for participant experience
assist participants to develop a comfort zone before exposure to risk
create an atmosphere for choice in risk taking
Developing the Human Element:
create an environment where each team member's voice and ideas are heard and valued
recognize the behaviors and obstacles that block creativity
increase awareness of the dynamics that stop teams short of their true potential
Communicating Clearly:
learn the necessity of and methods for creating shared mental models
experience the effect of misunderstandings and disagreements
discover the failures of "language" in effective communication
develop precision language skills needed to get on the same page
Working Together and Solving Problems:
build fast, effective consensus-based decision making skills and create successful group discussion
transform "knowers" into "learners" by creating a thirst for information, capitalizing on the knowledge gained from mistakes while developing the patience to avoid the quick fix
develop the resilience of the team and its members to sustain them through the long haul
create goal setting strategies that create maximum buy-in and the highest performance
understand the relationship between and effective balance of task vs. process
create a process and sequence for innovative problem solving
Recognizing Trouble:
where did all of our energy go?
4 F's of team conflict and function
develop accurate assessment skills and tools for "in the moment" facilitation
demonstrate the dangers of acting on mistaken assessments and develop a simple, effective process for inquiry that will end a majority of misassessments
Searching for Knowledge:
"data is good!"
failure is the BEST teacher
foster experimentation and risk taking…encouraging lots of little failures in the development phase to ensure large successes in the implementation phase
Rescues:
rescue the team from self-destruction
teach the team to self-diagnose potential conflict and self-rescue