By their nature, accidents are unpredictable.
A trained facilitator must be comfortable with all angles, competent with rescues
and confident in the midst of chaos.
Critical Skills for Safety
©
Advanced Technical Skills & High Angle Rescues for
the Challenge Course Facilitator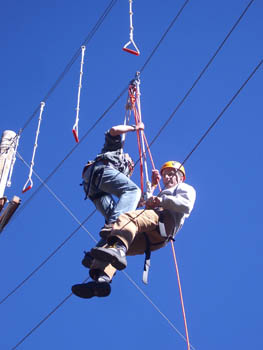 Critical Skills for Safety© is a 40-hour transformational technical workshop that leaves a mark of confidence on everyone who completes its objectives. Initially developed to teach technical and rescue skills, Critical Skills for Safety© quickly evolved into a deeply moving experience.
The crowning event of Critical Skills for Safety© is the "cut-away rescue". With a performance standard of less than four minutes from the ground, the cut-away rescue becomes the embodiment of all the critical skills a facilitator will need to be able to facilitate high elements and rescues. Learning to perform this emotional task with a time limit presents the facilitator with the single most important critical skill: the mastery of fear. The moving element in this workshop is a lesson of focus and calm that develops through the sequence of training that leads up to the dynamic event.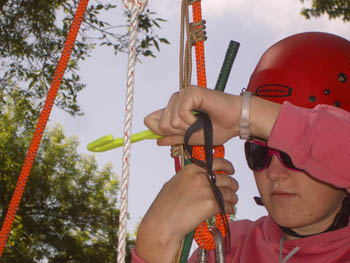 This workshop includes information on:
How programming and course design create emergencies
Medical screening and physiological responses
Inspection skills for the facilitator
Low element safety and spotting techniques
High element systems and set-up
High element belay and self-belay
Developing judgment
(4) steps in programming to avoid rescues
(6) concepts for high element rescue
(6) types of rescues and how to execute each
40 Hours
Trainer: Tom Leahy
Workshop Fee: $595 (does not include meals or lodging)
Early Bird: $495 (with 30-day advanced purchase)
"An experience which gives you hard technical skills and soft skills which impact every part of your life." —G.H., Missouri
"The most beneficial and purposeful training I have attended. Outstanding facilitation and dense, impactful material." —J.M., Iowa
"As an experienced facilitator, I don't think there was a single portion of the workshop that wasn't helpful or beneficial in some way." —A.T., Iowa