Foundations for Trainers©
Foundations for the Challenge Course / Zip Line / Canopy Tour / Adventure Park Trainer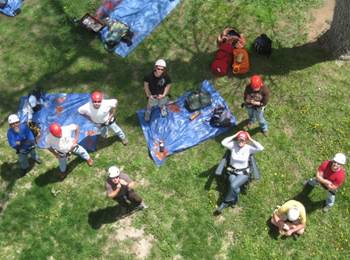 The selection, training, and supervision of facilitators are the most important factors in establishing a safe, ethical and quality program. The question is…who is qualified to train and supervise the facilitators needed to keep programs running year after year?
During the development of the ACCT Standards for Certification, the key question that emerged was…what qualifies YOU to train and certify me? The answer lies within having a range of training, experience, resources and validation that speaks to a trainer's efficacy to deliver relevant and current skills and knowledge effectively.
Do you train challenge course / zip line / canopy tour / adventure park staff?
If so, what are your qualifications? Do you have the training and experience needed?
Have you created an operations manual? training plan? documentation system?
Do you have the time to do a thorough and competent job?
Do you worry about your exposure and liability?
Would you like some help?
The Foundations for Trainers © workshop IS…a hands-on your computer workshop and will have three (3) areas of focus: (1) assessing and advancing your qualifications as a trainer (2) you will begin the process of developing your policies, procedures, manuals and training outlines that are unique to your course (3) we will explore considerations to communicate to your administrators to ensure you have the time, resources and qualified trainees to make your program effective.
The Foundations for Trainers© workshop IS NOT…a certification, an accreditation of a program nor will any technical or facilitation skills be taught or practiced.
NOTE: Leahy offers other workshops that will support trainers on their path to teaching technical and facilitation skills..
If your ultimate goal is to develop mastery as a trainer then you must make a significant effort in creating a foundation, structures and systems that will deliver safe, quality programs.
Foundations for Trainers©Content
Your Qualifications as a Trainer:
Overview and Training Philosophy
ACCT Standards: a description of the scope of training
The Qualified Course Professional (QCP): Trainer
Trainer's Portfolio
The Trainer's Development Path
The Structures / Systems You Will Need to Develop:
Course Operations Manual
Training Outline / Manual
Job Descriptions: student belayer, adult belayer, L1, L2, CM, Director / Supervisor
Staffing Structures for Daily Operations.
Trainee Pre-Qualification: whom SHOULD you train?
Exclusions: whom and what you SHOULD NOT train
Considerations for Your Administration:
Time Inventory to Accomplish Training
Objectives: minimum hours attended, documentation of content and
trainees.
Training / Performance Standards for your program
Testing / Test Protocol
Liability, Lawyers and Insurance: a brief look at your exposure
Documentation
PREREQUISITES: You must begin to assemble your personal portfolio. Minimum age is 21 and participants must own and read chapters 2, 3 and 4 of the 9th Edition ACCT standards before the start of the workshop.
30 Hours
Trainer: Tom Leahy
Workshop Fee: $695 (does not include meals or lodging)
Early Bird: $625 (with 30-day advanced purchase)
"Gained a lot of information for manual content, training content, testing content and personal qualification as a trainer." —L.B., Illinois
"Excellent opportunity to develop your in-house training program. It's hands on so you will leave with enough data/information to have a solid basis for your training programs." —T.C., New Mexico
"This workshop will help me to be more reflective, thoughtful and documented." —P.E., Colorado