TRANSPORTATION AND LODGING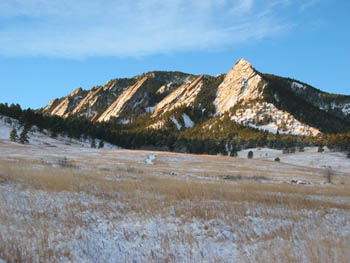 The City:

Boulder, Colorado is an idyllic setting, nestled at the foot of the majestic Rocky Mountains. Centrally located within an hour of Denver, Denver International Airport, Eldora Ski Resort and Rocky Mountain National Park makes Boulder a very desirable destination. It is a captivating mountain community enriched with natural beauty, recreational activities, and an endless slate of cultural and musical events. Populated by approximately 95,000 residents, plus 30,000 students annually at the University of Colorado, Boulder is the 11th largest city in the state with an elevation of 5,430 feet. The weather is commonly sunny, mild and dry and being outdoors at any time of year is a delight. The Indian Peaks region of the Colorado Rockies are directly to the West of Boulder with peaks ranging form 12,000 to 14,000 feet. If you are able to muster up any free time, you may find yourself checking out the Pearl Street outdoor mall, dining at one of the more than 300 restaurants, stopping at almost any corner for gourmet coffee or grabbing a beer at a local microbrewery.
Plan an extra day for Boulder on your travel schedule; you won't want to miss a single session.
Transportation and Lodging:
Air: Denver International Airport (DIA) is approximately 35 minutes to/from hotel / conference venue.
Ground Transportation: Uber OR Super Shuttle www.supershuttle.com OR *Green Ride Boulder www.greenrideboulder.com (*interlocken zone) are good choices.
Lodging / Conference Site: Renaissance Boulder Flatiron Hotel www.renaissanceflatiron.com conveniently located between Boulder and Denver in Broomfield, Colorado.
Make your reservation online before November 22, 2017 to guarantee our discounted rate of $129 per night.
Use this link: https://aws.passkey.com/e/49398563
If you have/need a ride/room to share please email Jennifer Leahy.