INVITATION
NCCPS 2018:
March 1-3, 2018
Renaissance Boulder Flatiron Hotel
(near) Boulder, Colorado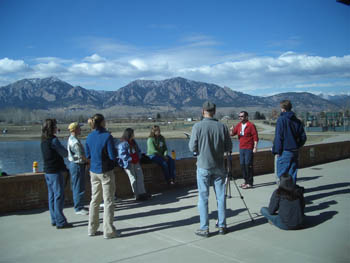 NCCPS (formerly National Challenge Course Practitioners Symposium) was originally conceived in 1992 as a venue for challenge course practitioners to talk about their tools and their trade. In the years since, NCCPS has expanded and evolved into a forum in which professionals explore the many realms of experiential education. Today, the conference unites educators and facilitators from all over the world in a setting that is immediately responsive to the dynamic training and continuing education needs of each participant.
NCCPS is a small conference in which participants create a community of learning and sharing. A proven effective meeting technology called Open Space provides a structure in which participants totally influence the direction, content and outcomes of the conference. No other conference in the experiential field has employed the Open Space technology for as long or as in-depth as NCCPS and therefore, there is no other conference that is as responsive to the immediate learning objectives of individual participants. NCCPS seeks to raise the bar on facilitation and the effective use of all types of experiential based learning.
NCCPS is an uncommon gathering. As a participant in NCCPS, you will take an active role in your own learning and you will be asked to share your knowledge with others. At NCCPS, all participants are equals. First time attendees and multi-year alumni work together to create an environment of safety and learning. Imagine a conference in which you not only feel welcomed, but one in which politics and judgments are left at the door... where there is no such thing as a stupid question... where high school students teach a meaningful workshop to adults and where everyone freely shares what they know. You will have tremendous power and responsibility to make sure everyone gets the learning they need. No one who takes responsibility for their own learning at NCCPS ever leaves disappointed! Just ask any alumnus.
Open Space?? At a traditional conference, who chooses the workshops? A committee. At NCCPS, all of the participants are on the committee. With the structure of Open Space, we sort through the ideas together. Passionate professionals, who have never even thought of presenting before, realize that their talent, skills and experience benefit the field. People just entering the field find they can ask the many talented professionals around them to share. NCCPS gives everyone a chance to develop their skills, to ask their questions and to request the materials they need.
NCCPS is the epitome of making the learner responsible for his/her own learning. Open Space is the structure that turns potential chaos into a symphony of talent and fulfillment. Our alumni are the glue that holds it all together, the grease that keeps it moving...they are the fuel. And first time participants..., when they realize the potential of NCCPS..., they are the flame. Come early for the learning and stay late to share your passion for facilitation and experiential education!
All the right people will be there.
PS., You can sleep when you get home!